ADK GLOBAL is pleased to announce that Richard Yu, Regional Chief Creative Officer for ADK Greater China, has been appointed as the member of International Board of Directors for The One Club of Creativity.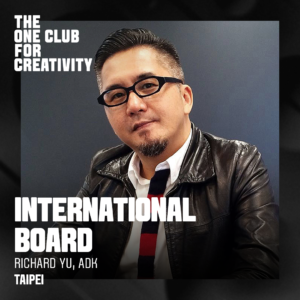 The One Club for Creativity, the world's foremost nonprofit organization whose mission is to support the global creative community, has announced 21 leaders from around the world who will begin three-year terms on its International Board of Directors.
Board members are drawn from countries with the largest advertising communities, and are selected based on three criteria: they must be prominent international creatives, be respected leaders in their given fields, and exert influence in their respective regions.
Richard has a high reputation for his creativity not only in Taiwan but also in the global creative scene. His widely acclaimed creativity has brought numerous achievements for the ADK Group.
Richard's comment:
"I am honored to be named to serve on the International Board of Directors for TOCC. I will work and exchange the experience alongside a diverse group of 21 creative leaders from around the world. I will try my best and learn from it, and I hope to help shape the future of this non-profit creative organization, further to contribute to and create opportunities in the creative communities we all love."
Contact:
ADK Holdings Inc., Global Business Center
e-mail: info@adk-globalnetwork.com